Welcome to PaulDeRitter.com
"All Styles - By Request"
"SWING, ROCK 'N' ROLL, BIG BAND,SMOOTH JAZZ, BLUES, 50'S AND 60'S, JAZZ, LATIN/ISLAND/BEACH, DIXIELAND, MARDI GRAS, COUNTRY, INTERNATIONAL/ETHNIC, MILITARY/PATRIOTIC"
Paul DeRitter Band
" Available as a Duo, Trio, Quartet or Quintet "
Our ability to perform with 2, 3, 4, or 5 musicians allows us to cater to venues and budgets large and not so large. We play the Great American Songbook which has been very well-received. Our repertoire includes tunes from the late '20's to the mid-60's with some newer tunes to keep us current. All of our music is appropriate for listening and dancing.
Our dancers enjoy ballroom, line-dancing and "dance dance".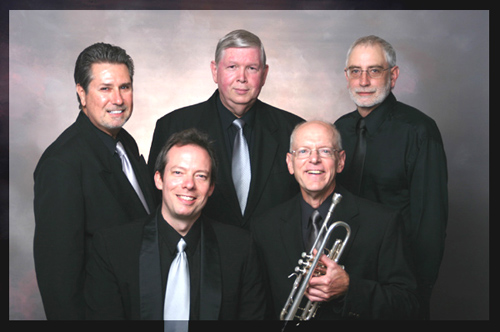 We consist of five talented musicians who play saxophone, keyboard, bass and drums.
I play trumpet, flugelhorn, cornet and pocket trumpet and do the vocals.
We are able to provide music to suit a wide range of ages and musical tastes.
"The Paul De Ritter Bands"
have the largest repertoire of fine music including mellow cocktail/dinner music, contemporary ballads, love songs, swing, standards, big band tunes, latin and smooth jazz.
We play recorded music on our breaks so the music never stops.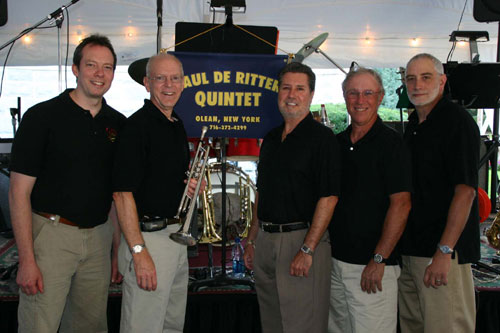 We can tailor the music to fit your tastes and those of your guests and our price is competitive with the better D.J.'s.
"The Paul De Ritter Bands"
Provide a professional experience along with sophisticated musical entertainment.
References are available upon request.
We are also available as a quartet for smaller venues.